BIRDHOUSES
(Single-Family)

BIRDHOUSES
(Multifamily)

NESTING SHELVES

BIRD FEEDERS

LADYBUG HOUSES

SQUIRREL FEEDERS

BAT BOXES


MAIN WEBSITE
www.BirdhouseDepot.com




Last Update: 12 APR 02








All sorts of inexpensive and functional birdhouses from "The Birdhouse Guy" on Spanaway Loop Road.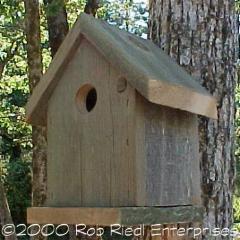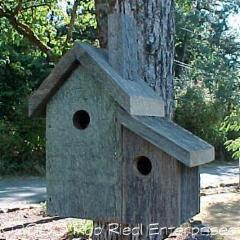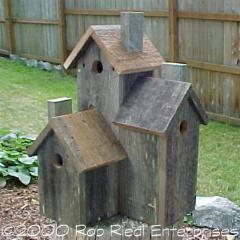 "The Birdhouse Guy" offers functional, yet decorative, birdhouses and feeders at incredibly low prices. The houses are constructed from "used" or "aged" fence boards, and each one is as unique as the board from which it came.

There are many many styles to choose from, and they just keep coming and coming. And believe it or not, most of the small to medium houses are only $5.00 each!

Why so little you ask? Because most of these houses are "overruns" and "factory seconds" from my main website... www.thebirdhousedepot.com
But not all of the houses and feeders on this site are "seconds", many are as good as the houses others pay $8.95 for.

The 5 dollar price applies to "New Cedar" or "Aged Cedar" (It just depends on what I have available at the time). I do however, take requests (although you may have to beg a little).

If you wish to have a near perfect house in a specific configuration, you may want to order from the main website at www.thebirdhousedepot.com

Please note... I can pretty much say you will not be disappointed with the quality of the $5.00 houses and feeders, there is nothing wrong with them, they just can't be sold as "kits" and/or perfect houses for decorating/painting.

So... if you're looking for a birdhouse to hang in your yard, look no further. Now, on to more info about our products and services.

Available Products
Order Process
Pricing & Payment Info
Product Menu


---
Available Products

We have birdhouses, bird feeders, squirrel feeders, bat boxes, and pretty much every other kind of critter house or feeder (We even sell kits on the main website). Use the links at the upper left of the screen (or at the bottom of the page) to start browsing our electronic catalog.

If you don't see what your looking for on our catalog pages, send an e-mail describing your need, and we will do our best to hook you up.

back to top

---

Order Process

To order houses, just send an e-mail , or call 253-536-1787 with your request. You can even stop by to place your order. Please include...

...name and quantity of each model requested
...when they're needed
...preference of wood type
...intended method of payment
...and ALL of your much important contact information

If you wish to use a credit card, that's fine, just don't e-mail your credit card info! (We will get this from you later, and please note you will be charged an additional 75 cents per house to cover fees).

You can also stop by to place your order or just to see what is currently available. "Stock" items are limited to overruns and the most basic and/or popular models, however, we occasionally have oddball items available.

---

Pricing and Payment Info

We take cash, checks*, major credit cards**, and we'll even take trades of used fence boards (painted or not). We'll discuss payment method during our e-mail and/or phone conversations.

*NSF checks will be returned and an additional $45.00 NSF Fee will be applied, not to mention the embarrassing public posting of the culprits name and address.

**Credit card info must be shared in person or on the phone, so don't
e-mail the info, it's not secure.

All prices shown on the catalog pages are discounted cash prices, credit card prices are 75 cents per house higher.

PREPAID orders take FIRST priority and will be processed with regular Internet orders in the order received. Orders that are NOT prepaid, will be placed on a time-permitting completion list. (Heads Up... I get really busy in the spring and If you want your houses in a timely fashion, you may want to consider prepaying).

All special/far out requests must be PREPAID, NO EXCEPTIONS!

---

Products

Single-Family Birdhouses
Multifamily Birdhouses
Nesting Shelves and Boxes
Bird Feeders
Ladybug Boxes
Squirrel Feeders
Bat Boxes
Other

back to top

---
"The Birdhouse Guy"
©2000 Rob Riedl Enterprises
1717 - 130th St Ct South
Tacoma, WA, 98444
(253) 536-1787

Back to Top