At The Birdhouse Depot, we offer several quality birdhouse kits and bird feeder kits for ages 7 and up. We have single- and multifamily kits, as well as bird feeders that can be used for nesting shelves. The kits are fun to assemble and perfect for school projects, scout projects, summer camps, and any other fun and educational event. See our available models by clicking on the pictures below or on the category links located to the left of your screen.


/!\ WARNING: Choking Hazard - Small Parts*
Not for children under three (3) years
*All birdhouse kits and feeder kits are packaged with galvanized nails.
For specific information on the following subjects, click on the links below or simply scroll down the page to review all information.

Special Pricing
Not-For-Profit Organizations
Kit Construction
Lead Times
Available Models


---
Bulk or large kit orders are appropriately discounted to suit the size of the order. They may also include extra kits and/or assembled samples at no charge. If you are interested in ordering large quantities and would like a price quote, please send an e-mail to the address below.
To avoid having your message being mistaken for spam, be sure to include the word "Birdhouse" in the subject line.
You may also place your request by phone @ 253-536-1787
(Please include your e-mail address for an after-hours response.)

And when requesting special pricing, be sure to indicate the model and package desired, quantity of each kit needed, how soon you need them including your projected assembly date, and your destination city and zip code.

Not-For-Profit Organizations

Schools, girl scouts and boy scouts, government agencies, and other legitimate not-for-profit organizations will normally receive a discounted price for orders including 10 or more of the same model (sorry, no mix and match for the price break).

Please call for more information on discounts ... or if you have plenty of time before your project begins, just enter your order online and fax proof of not-for-profit status to 253-536-4011. The normal "no-rush" discount schedule is noted below.

**due to fuel rates dramatically impacting lumber prices, we are not offering discounts equal to the grid below--please call.

20 to 50 kits - 10% off
51 to 100 kits - 15% off
101 to 200 kits - 20% off
more than 200 kits - call

*To receive the not-for-profit organization discount, letterhead, tax ID, and/or exemption information may be required to ship to an address that is not an official not-for-profit organization. An order shipped directly to the organization's address (i.e., Boys and Girls Club, 123 Main St, Anytown, USA) does not require faxed proof to receive the discount.



Back to top




Our birdhouse kits are constructed from raw, rough-sawn Western Red Cedar. Each kit includes instructions and the basic components needed for assembly: pre-measured and cut cedar wood pieces, nails, and pre-drilled entrance and mounting holes (mounting/hanging holes are not drilled on overhanging roof models intended to be bottom mounted).

*Note to Artists* - The rough surfaces of the cedar may need to be sanded if you are going to paint the houses with FINE detail. To see the surface variations of rough-sawn cedar, take a look at the pictures throughout the web site. All of the pictured houses are constructed from the same quality/grade of lumber that is provided for our kits, as well as our assembled models. The surfaces are fine if you are planning to paint them a specific color or theme; however, you may want to sand the surfaces if you intend to paint the house with a reproduction of Michelangelo's "Sistine Chapel."

Shown below are a few stages of kit assembly.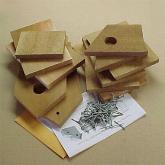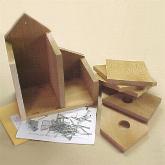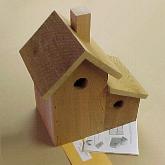 Lead Times

Most of our basic birdhouse kit models are in stock, others are cut and drilled as ordered. The lead-time for non-stock models sometimes varies between two and four weeks. If you have a deadline, call for availability.

Available Models

Click here to skip the chitchat and see the first group of kits.

Although we have several kit models to choose from, not every birdhouse or bird feeder in our online catalog is available as a kit. If a house or feeder is available as a kit, it will be listed under the "Birdhouse Kit" categories to the upper left of your screen.

Houses that are not currently available in kit form may be produced as kits if the demand for a particular order is high enough (usually 25 or more) -- let us know.

You may view our birdhouse kit models by clicking on the pictures below, or the page links listed at the upper left of your screen.
Single-Family Birdhouse Kits

Multifamily Birdhouse Kits

Bird Feeder
Kits